THE COSTA BLANCA STORY
This happened (mostly) in 1998.

In 1995 Tomas, a friend of mine, went from Scandinavia to stay in Spain for a while. He liked it, found out that he would continue to stay there for the time beeing and now five years later he is settled there as a resident.

When he went, he brought his car with him, a 1980 Dodge Aspen.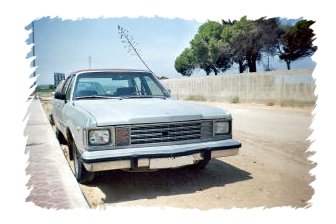 In 1998 he found that it would be convenient and handy to have the car registered in Spain so he prepared for the demanded paperworks and other things needed. He was also helped by a Swedish guy running a spare parts agency at the Costa Blanca.


This is what happened:
The first thing to get is a survey report and a registration certificate from the survey institution in the city of Alicante. The car was almost approved but failed on one point. The chassi number was missing. Actually it wasn´t missing but it was not punched into the metal chassi as demanded in Spain.

After that is completed the registration forms can be issued by authorized customs agents in the City of Cartagena.

To get the number punched in the authorized way demanded a written approval from the survey institution.

When he had got written approval he could turn to an authorized workshop and get the number rightly punched.

(There was an alternative way; the customs officers could make that punching, but only if the car was confiscated by the customs)

And instead of having the chassi nr. punched into the metal chassi there was a possibility of having a picture taken of the chassi nr. as exposed in the wind screen. A proper picture that means, taken by a known photographer.

Tomas decided to try both ways. Since a written approval of that punching work be issued by the survey institution. In about a week´s time. He both ordered that document and went to a well known photographer. And it was not exactly the first time that photographer was asked to do such a thing.

Taking the pictures was of course no big deal, that was done in no time. But, however when they were presented to the survey institution man he didn´t accept that after all.

But the written permission was issued after a couple of days.

So off he goes to find an authorized workshop to do that punching thing.



About the car;

Dodge Aspen is not an unusual model in the U.S. and fairly well known in Scandinavia. It´s just that the Dodge Company doesn´t exist in its original form any longer, it belongs to the Chrysler Corporation since long ago, and the brand name of Dodge is not used in Europé any more.

The model of Dodge Aspen was never ever on the Spanish Market.

Besides, it was an American car, hardly anybody ever tries to register an American car in Spain, and with a previous registration in a country outside the European Community. If it had been any European car registerred within another European Community country things would have been much easier.

So, here he is, trying to find an authorized workshop But there are no authorized workshop for that
model of a car which, according to the lists, does not exist.

Any workshop then, authorized or not? After all, it´s just a simple job to punch some numbers and letters on a metal chassi.

But no one really dares to do it. They forward our friend Tomas to a factory of car parts.

Tomas went to Chrysler. They absolutely refused to do it. He returns to a workshop in Campoamor and pays them to do it with a promise that nobody will ever know who did it. And they finally accept to do that job.

Next stop, the customs office´agent in the city of Cartagena. But by then, the written permission had expired. He was even stopped by the Guardia Civil traffic wardens who had their own harsh opinion about that car.

Even the laws and regulations was changed during this process, it was no longer the customs Cartagena who were to issue the registration forms. That was now to be done by our old friends at the survey institution in Alicante.

But to them, just filling in forms does not make good sense. They demanded a special motor vehicle certificate for that very car model. Including information about cylinder stroke length, true dimensions and just about all kinds of material specification.

This is about the time Tomas recognizes that the technical manual is not in every detail corresponding to the car he really owns.

Insurance is another contract you must sign. Basic car insurance is compulsory in Spain just as in every country in Europé. He called just about every insurance company advertising of special advantages for customers that have been driving cars without accidents for several years.

According to the information from Tomas himself, he has never had any car insurance matters whatsoever throughout the years.

One of the insurance companies refused to sign an insurance since the motor engine of that Dodge is of remarkable size and volume, in fact according to their consideration it had to be a full size truck.

And they did not sign insurances for trucks.

The other companies would not sign insurances because the car model did not exist.

But the insurance company of MAPFRE< came to a solution, they considered the car to be a Dodge Dart instead of an Aspen, and they knew about the existance of THAT model.

(Certain series of Dodge Dart was once upon a time manufactured in Spain).

Now is the time to get to the customs and pay the customs fees Down in Cartagena again.

To decide the amount of fee to be paid for the car the customs demanded some documents. Among them the original document of the purchasing of the car.

The year when Tomas bought the car was 1983 and there was no way that reciept would exist.

But he could write an affirmation himself of the amount he once paid which could be satisfactory to the customs´officers. A considerable amount of money that was by the way.

That affirmation had to be stamped by his bank. Why in the world is the bank involved?

The bank however accepts to stamp that affirmation and now everything is in order and after paying the rest of the fees he can get his new license plates.



Summary and "What was to be paid for" follows.
-"Trafico" Fees for the new registration of the car
-Number of survey reports and examinations
-Some extra bribes for the survey engineers

-Accessoria- the guy running the spare parts agency.
-The works done when punching the chassis nr.
-Customs
-Fee for the Customs agent.
-Extra tax for luxury products.
-License plates
-The photographer

A total of about 270.000 Pesetas which is definately more than twice the amount I guess anyone would pay for that car.


But the statistical value according to the customs is not less than 400.000 Pesetas!

Not included are the costs of the numerous travelling to all those different places.

Besides these people are not exactly waiting in their offices for you to show up.

Most of the time they simply are not present until some other time, and you can hardly get a written document or other things on the very same day.

You have to wait for it for about three days or so and then go back and pick it up yourself.

In person.

(The End)